The Fearwolf series has been published!
You can find the works featured in the February 2017 issue of Durian Magazine along side so many talented artists, photographers and writers.
It has been an absolute pleasure to work with Nikki Vaynshteyn, Editor in chief, Publisher, Executive and Creative Director of Durian Magazine, to see this project through.
You can follow the magazine on Instagram
Cross Section is back and finally exhibiting in Toronto, Canada.
Check out our website HERE
And follow us on Instagram
@ocadu_florencecampus
PLACE MAKING // FARE SPAZIO
SEPTEMBER 3, 2016
7-11pm
An evening of art, installation, video and performance
Curated by Crazy Dames and Creative People in Florence
PLACE MAKING // FARE SPAZIO invites artists and performers to reflect on the role of public space, seeking to develop new ideas for the ways in which we design, interact, and play with our city.
The evening will include participatory art works, installation, video projection and performance by diverse artists selected through an open call, as well as a workshop lead by the Canadian artist duo Crazy Dames.
Facebook event: HERE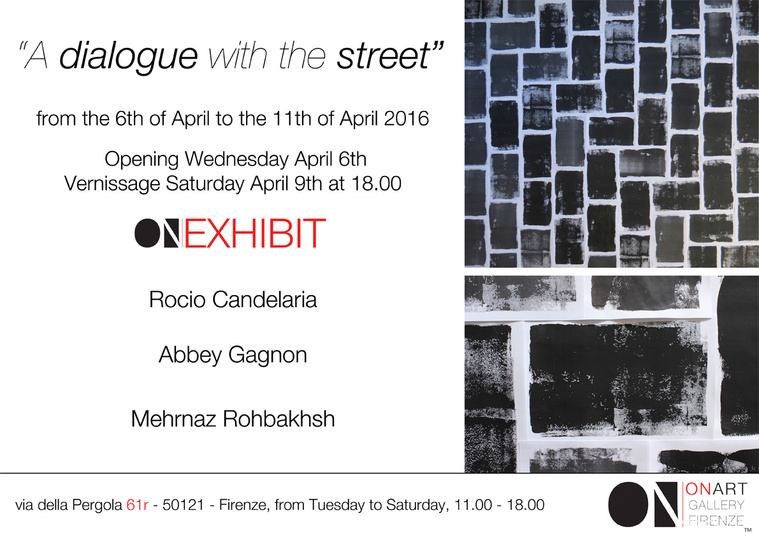 An intimate group exhibition finds the works of Rocio Candelaria, Mehrnaz Rohbakhsh and Abbey Gagnon in dialogue with each other and in dialogue with the streets. Our inspiration and materials come from the streets and our works reflect the structures, surface textures and sounds we encounter there. This exhibition is a multi-media experience where visitors will encounter sculpture, painting, drawing and sound installations.
Thank you Romina Sangiovanni and Giacomo Ferdani; It was a pleasure to work with you!
Find out more about ONArt Gallery at their website or follow them on Instagram.
OCAD University's Florence Program is proud to present CROSS SECTION, a group exhibition highlighting recent work by 24 students working from a wide array of mediums—drawings, prints, collages, paintings, sculpture, installation, photography, sound, video, digital imagery and jewelry. Varying in creative approach, theoretical structure and technical processes, the body of work from these students come together at a cross section as they intersect, coincide, synchronize and exist side-by-side.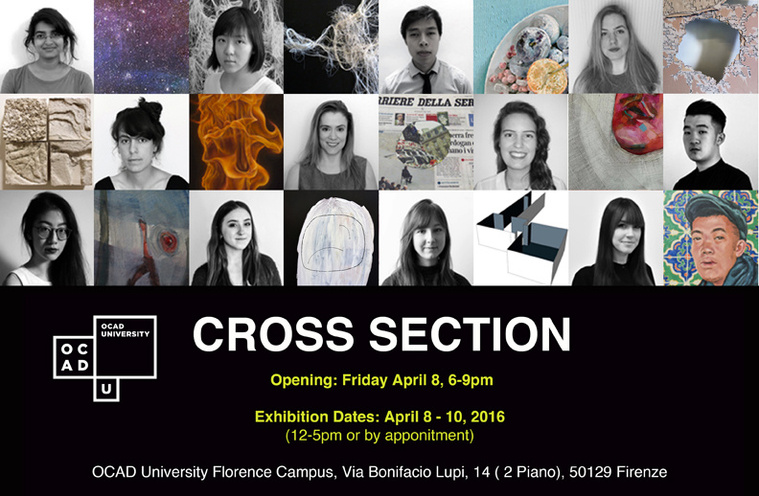 Join me and 24 other emerging artists at OCAD University's Florence Campus for our Open Studio and Aperitivo.

LOCATION: OCAD University,Via Bonifacio Lupi 14, 2 Piano, Firenze, Italia
DATE: Friday, December 11, 2015
TIME: 6:00 p.m. - 9:00 p.m.

More Information: HERE
Join me and 900 other emerging artists at OCAD University's 100th Graduate Exhibition.
GradEx Schedule: Opening Night: Wed' April 29, 6:30 to 11 p.m.
Thurs' April 30, 9:30 a.m. to 5 p.m.
Fri' May 1, 9:30 a.m. to 8 p.m.
Sat' May 2, 11 a.m. to 5 p.m.
Sun' May 3, 11 a.m. to 5 p.m.
More Information: HERE
Loving this poster created by Award-winning illustrator Gary Taxali?
Find out more about the artist: HERE